How To Find The Cosmetic Dentist Who Gives You The Smile That You Always Wanted.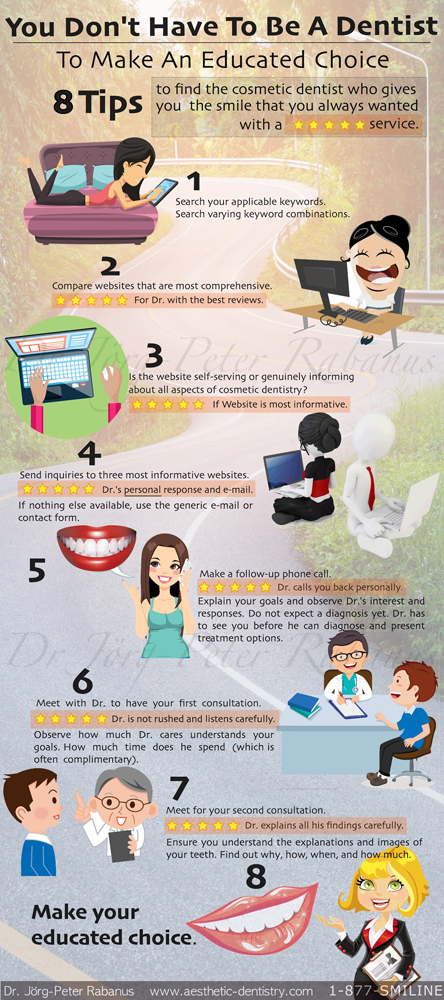 Information about cosmetic dentistry might be confusing. Everybody looking to enhance his or her smile has a different set of circumstances. This website was designed to help anyone who is looking for cosmetic dentistry to find answers that apply to his or her particular dental condition. This infographic illustrates the eight steps that you can take to find the cosmetic dentist who fits your needs.
Search your applicable keywords. Search varying keyword combinations.
Compare websites that are most comprehensive.
Is the website self-serving or genuinely infoming about all aspects of cosmetic dentistry?
Send inquiries to the three most informative websites.
Make a follow-up phone call. Explain your goals and observe the cosmetic dentist's interest and responses. Do not expect a diagnosis yet. The dentist has to see you before he can diagnose and present treatment options to you.
Meet with the doctor to have your first consultation. Observe how much he or she cares and tries to understand your goals. How much time does he spend? Is it complimentary?
Meet for your second consultation. Ensure you understand the explanations and images of your teeth. Find out why, how, when, and how much.
Make your educated choice, which will give you the five star service that you deserve.
Feel free to contact us or call +1-415-999-6194 to schedule your complimentary consultation.